The University of Texas at Arlington Special Events Facilities announced that Keith Schobert has been promoted to Director of College Park Center beginning September 1, 2018. He succeeds Jeff Davis, CVE, CVP, CMP, who has been named Executive Director of UT2Arlington Special Events Facilities.
A highly accomplished facilities and event professional with more than 14 years of experience, Schobert has been instrumental in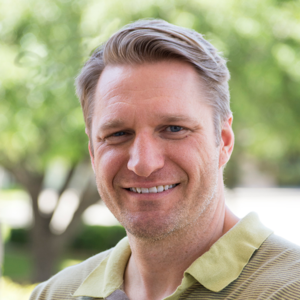 his performance of venue operations for a wide variety of events at College Park Center during the last seven years, along with his support, assistance, and encouragement of his team. He has been influential in planning, scheduling, and directing all event support and operational functions, establishing relationships with vendors, University and athletic personnel and staff members as well as coordinating bids, proposal, planning, and execution for capital improvement projects.
Schobert joined UT-Arlington in 2011 as assistant director of event services and operations during the opening of College Park Center, a $78 million, 7,000-seat multipurpose arena. In January 2013 he was named assistant director of facilities and operations of CPC. His background includes operations manager for SMG—INTRUST Bank Arena in Wichita, KS, director of facilities for Wichita State University, Wichita, KS, event coordinator at University of Mississippi, Oxford, MS, director of facilities and events at University of North Texas, Denton, TX. He also served as event security assistant and technical assistant for several facilities. He holds a bachelor's degree in physical education from Tabor College and a master's degree in sports administration from Wichita State University. In 2016 he graduated from IAVM's Academy of Venue Safety and Security and Venue Management School in 2014.
"Keith has been an integral part of our team since the opening of the arena, covering nearly every aspect of venue operations in his time here," Davis said. "He has demonstrated his leadership ability and is often the 'go-to' person for staff and clients. I am confident in his ability to lead all aspects of CPC operations in this new role."
In his new position as director of the College Park Center, Schobert is responsible for day-to-day operations of the venue, including contract negotiations, tenant relations, event services, guest services, building operations, and renovation planning and oversight.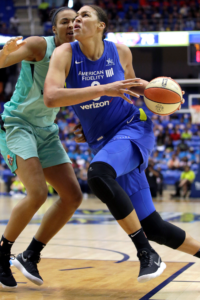 Speaking of College Park Center, nearly 5,000 kids were the first to see an amazing WNBA single-game scoring record. It was the Dallas Wings' Kids Day at College Park Center on Tuesday, July 17 when Liz Cambage smashed the scoring record with 53 points during a Wings' win over New York Liberty, 104-87. Her previous career high was 37, set earlier in July against Chicago.
"It was an exciting game day," Davis said. "A big win with an amazing scoring record that enhances College Park Center as a DFW world class sports and active entertainment destination." Cambage, a 6'8" center, was drafted No. 2 by the franchise as a 19-year-old, but only played for two separate seasons back in 2011 and 2013. She averaged 11.5 and 16.3 points, respectively, in those two seasons but took some time away from the WNBA to work on her game in China and her native Australia.