By R.V. Baugus
It was an IAVM Foundation kind of night at the Leadership Dinner that was one of the first events to kick off VenueConnect in Pittsburgh. In a night that recognized 15 Past Presidents/Chairs among other announcements of incoming and outgoing IAVM Board leaders, Chair Adina Erwin, CVE, made it a night to especially remember those who have contributed roles on the IAVM Foundation through the years by selecting several deserving individuals to receive the Chair Citation, an honor especially bestowed by the current Chair to individuals who have made contributions to the association or industry. Erwin, of course, has served at the helm of the Foundation, so its role within IAVM is close to her heart.
As Erwin called the names of the nine Chair Citation recipients, she shared snippets of those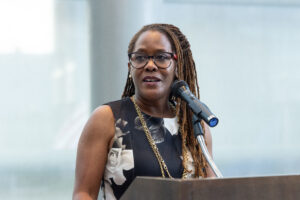 individual's roles through the years on the Foundation, including some who have served for 14 years. The Chair Citation is usually given at a smaller number, but Erwin was quick to point out that she would not be following the rules this year for such a deserving group. Perfect decision, Ms. Chair!
Congratulations to the following recipients of the 2023 Chair Citation:
 Bill "Sparky" Bavirsha, CVE
 Alexis Berggren
 Jim Brown, CVE
 Danny Bryant, CVP
 Gina Brydson
 Kayln Denniston
 Shelly Kleppsattel
 Angie Teel, CMP
 Jim Wynkoop, CVE
IAVM wishes to thank the beautiful PPG Paints Arena for their hospitality in hosting this year's Leadership Dinner.