By R.V. Baugus
Editor's Note: Part II of the interview with VenueConnect Opening Keynote Speaker Kevin Clayton continues below. In this portion of the interview, Clayton shares more about his upcoming presentation along with how the Cleveland Cavaliers and Rocket Mortgage FieldHouse partner with the local community.
IT WAS INTERESTING TO LEARN ABOUT YOUR BACKGROUND AND INFLUENCE IN THE AREAS OF DIVERSITY, EQUITY, AND INCLUSION. AS A MATTER OF FACT, DEI ALMOST IS SPOKEN AS IF ALL THREE OF THE LETTERS STAND FOR THE SAME THING BUT OBVIOUSLY, THEY DO NOT. HOW WILL YOU PRESENT THAT ELEMENT OF DEI?
I'm going to define the differences in several ways. I'm going to do it through the presentation but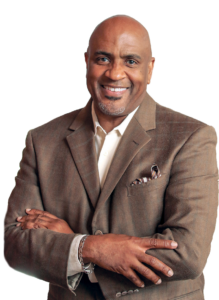 before I even get to that I do it in a way that is experiential and actually include members from the audience in a way that is so profound. It is one quick little exercise. I did this exercise today with some high school seniors. It's the first time that I've done this with someone so young because people couldn't understand why in our definition do we have similarities.
So, I went through this exercise and showed them and what it does right in front of you, you see, wow, you know, if I let my biases and my kind of life experiences block me from seeing Kevin as a person and seeing Kevin as only a Black male, then I'm going to lose the richness of the potential of us being the way we work together as colleagues or if we're friends or neighbors. Let me add this: Each time I kind of go through a segment I wrap it up with a how-to, so you know that's coming. It's not like I get to the end, and I list here's five things. I give it in real time so people can mentally massage it, but I also connect this back to this industry. My examples will range from what happens in venues to what happens in communities and everything around it.
SPEAKING OF COMMUNITY, WHAT ARE SOME OF THE GREAT THINGS YOU ARE DOING IN CLEVELAND?
I'm going to run off a handful. First, our chairman and leader of our organization, Dan Gilbert, believes that we are stewards over the community's property. So, we look at our building as the community's property. Our team, it belongs to the community. With that, I'll give you two or three quick examples. One of the challenges that we have in Cleveland is being the most impoverished city in the country and that's child poverty and adult poverty. It has been rated as the worst place for African American or Black women to live and when you start talking about maternal health for women, when you start talking about babies and what have you, we're one of the highest from a death rate standpoint and you look at all those things and understand there are some things in our systems that are creating that.
What we have done is partner with the city, our mayor, our county executive, and the county, to understand better what role we have and what we focus on with food scarcity and gun violence. There are some very specific things I can share with you around what those initiatives are and how we were able to get the entire community to rally behind us.
At the end of the day we're a trojan horse. I can make a phone call and this is not me being arrogant but you know, any of our venues can make a phone call and say, hey, this is such and such and it doesn't matter who it is we at least get an audience.
So the fact is our non-profits and others can't get that kind of audience. It is our responsibility to be a door opener. We are already with the city and the county, because at the end of the day for all of our venues and the venues you have at the conference if they are coming from cities that are perceived as not safe then that is going to have a direct impact on the event planners and where they are going to select.
I'll say everyone is talking about DEI to the extent that if we leverage the whole DE&I platform with all of our partners and some of our booking partners who understand it. I'll give you a great example. Lizzo has a passion around voter registration. That's one of our passions so we're trying to talk to her about what can we do in connection with you when you're here about voter registration?
It's something we're just now rolling out to interact with the promoters around what can we do from a community standpoint to expand the relationship because all things being equal if you're a venue in Pittsburgh competing with us and it's a toss-up but if we have a passion around social justice, we leverage that and it's a competitive advantage perhaps.
VERY IMPRESSIVE! THE NBA HAS BEEN A LEADER FOR YEARS WHEN IT COMES TO DIVERSITY IN THE FRONT OFFICES AND ON THE COURT. TALK SOME ABOUT THAT.
A couple of things that we're doing … 85% of the league is African American or players from other countries. Therefore, it makes sense for us to highlight and partner with those visiting teams when they come in that aren't our players. So, when there's a star like Luka Doncic with Dallas, when Dallas comes in, we highlight and talk about your star player. We sell packages, we promote, and typically the player will give and take pictures and autographs.
We also have leveraged our relationship in Brazil this past summer with (long-time Cleveland player and fan favorite) Andy Varajao. I'll show some footage around what we did there. We opened up courts in Brazil and statistics that are amazing as to the impact prior to us doing that and then after us doing that.
YOU'VE BEEN GRACIOUS WITH YOUR TIME. HOW ABOUT WE WRAP UP WITH YOUR DEFINITION OF 'ALLYSHIP' AND THEN HOW YOU PREVIOUSLY SHARED THAT OUR CONFERENCE THEME OF ENGAGE / CULTIVATE / THRIVE IS A THEME RIGHT IN YOUR WHEELHOUSE.
I'm going to give you a teaser. The headline teaser on ally ship of what I'm going to give you is "Get in the Boat." I go through a whole piece not so much dramatic but it's pretty powerful around what allyship is and what it is not. What I will do is show how this whole concept of DE&I and social responsibility has to be an anchor for any organization to engage, cultivate, and thrive.