By R.V. Baugus
Sherron Washington, M.A. is a marketing and communication (marcom) professional who has imparted her wisdom and expertise for over two decades and understands well the often nebulous world of communication and engaging employees and clients. It is that knowledge she will bring to GuestX in San Diego on February 17-19 to share with attendees in an Opening Session titled "Learn How to Network Through Authentic Engagement!"
Washington has been called "The Marketing Whisperer" by many due to her uncanny ability to assist businesses in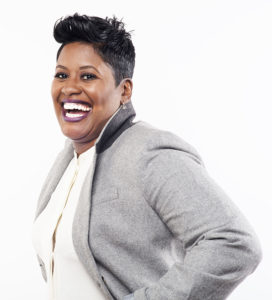 an innovative, solution-driven, fusion of communication and marketing efforts that increase growth opportunities. She wowed the crowd this past July at VenueConnect in Chicago with a presentation on effective communication for leaders and was a natural fit to return to IAVM once again at GuestX.
She is also one of the busiest presenters around and much in demand. We caught up with Sherron to give her an opportunity to talk some about her upcoming session and more.
Why should folks plan to attend GuestX?
To get an immersive conference that teaches attendees skillsets in how to align your venue's performance against guest expectations in order to deliver an exceptional guest experience.
Help some of our attendees out who may not know you about your professional experience in this field of guest experience.
I have 20+ years in facilitating and developing events and meetings that have created fun, educational, and professional experiences. I am also often referred to as a global connector/networker who has an uncanny ability to execute memorable experiences for guests and attendees.
What are just a few of the things you can share as a "sneak preview" for what you expect to speak about at the opening session?
Creating an authentic interaction can go a long way when it comes to engaging guests. It is pivotal to remain authentic in your networking efforts in order to facilitate interest and engagement, utilizing communication tactics that are direct and complementary in order to build better business relationships and guest experiences. Attendees will learn how to create more meaningful interactions and how to leverage relationships with guests to create exceptional experiences with your organizations brand and build loyalty.
Speaking of guest experience, what do you see as the biggest change in that area today as far as what guests expect when they go to a venue?
The biggest change in guest expectations I would say is the notion of wanting to have a seamless experience that is expeditious yet personalized. As a guest myself, I want to be able to visit a venue without issue and still made to feel that I am being catered to. Which is a big challenge for venues because each guest has individual needs and requirements.
Any takeaways you hope to leave attendees with for them to go back home and implement or execute?
Attendees should walk away from my opening session with tactics that will help them to leverage and build relationships internally as well as externally. They will also learn how to create and continue their brand's exemplary venue experience online in order to build guest loyalty.