OVG360, operators of the Swiftel Center in Brookings, S.D., announced a new 10-year multi-million-dollar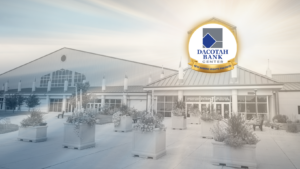 partnership with Dacotah Bank, a state-chartered bank in all of South Dakota and North Dakota as well as counties in neighboring states, whereby Dacotah Bank will become the new naming rights partner of the Brookings 6,000-seat arena, effective immediately.
The public can expect to see name transitions gradually from the Swiftel Center to its new Dacotah Bank Center naming rights across all platforms and media completed by the end of the fourth quarter of 2023. Dacotah Bank previously partnered with OVG360 in past sponsorship capacities at the center.