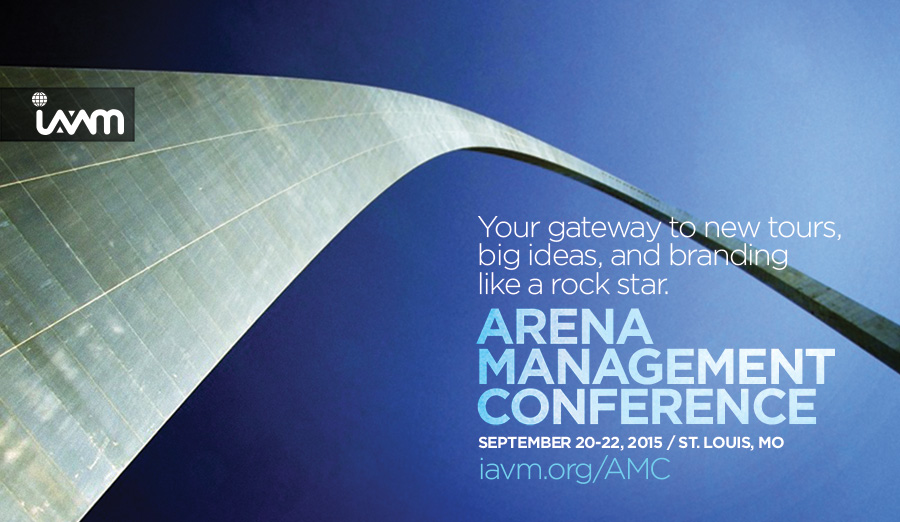 New Tours, New Connections at AMC
The 2015 Arena Management Conference (AMC) puts new tours center stage on Tuesday, September 22. First, it's a look at non-musical tours hitting arena calendars with Mark Duryea, vice president, north american routing & tours, FELD Entertainment; and David Pitman, director, tour planning, Cirque Du Soleil.
Then, it's on to the promoter and agent panel. After a meet and greet reception, Bredan Buckley, vice president, Columbus Arenas Sports & Entertainment, will moderate an interactive discussion with Paul Emery, founder, Emery Entertainment; Joe Litvag, senior vice president, AEG LIVE/AEG LIVE Events; Ed Rubenstein, CEO, ArenaNetwork; Aaron Tannenbaum, Music Agent, CAA; and Jay Williams, partner, WME.
To his AMC colleagues, Buckley says, "Engage! With this level of expertise at AMC, we have a great opportunity to discuss the issues that agents and promoters are facing, as well as the effects (today and tomorrow) those issues have on our side of the business."
The afternoon block of touring sessions will be the perfect wrap-up for a conference entirely devoted to the business of arenas.
"IAVM is the best way to interact with industry colleagues that I have seen in my career," continued Buckley, "the chance to blend that with industry experts that affect the rest of our daily business is an opportunity that should not be missed."
The Rise of Festivals
One issue on the agenda for the agent and promoter panel is the continual rise of festivals in the evolving concert landscape.
In terms of
buzz, festivals are quite the conversation starter. A 2014 study by Eventbrite and Mashwork followed social media traffic for some of the largest U.S. festivals. Findings are unique to each festival (click the image at left for details, via Huffington Post), but two consistent attendee drivers are the artist line-up and the festival experience itself.
For promoters and owners like Live Nation and AEG, festivals are a rapidly growing slice of the $6 billion North American concert industry. As Niel Shah writes in the Wall Street Journal:
"In April, Live Nation bought a controlling stake in the Bonnaroo Music and Arts Festival in Manchester, Tenn., which featured Mumford & Sons, Billy Joel and Slayer this year. Last year, it purchased C3 Presents, the promoter of Lollapalooza, which kicks off Friday. Its other big acquisitions have included Insomniac Events, which produces Electric Daisy Carnival and other electronic-dance-music festivals. Live Nation says it holds four of America's top five festivals by attendance, and 70 festivals world-wide. In 2012, it had none of the top five.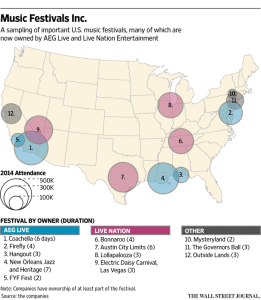 "Since 2010, AEG Live has added at least 12 major U.S. festivals to its portfolio, either through acquisitions, partnerships or launches. In January, it bought a controlling stake in the beachy Hangout Music Festival in Gulf Shores, Ala., and, before that, Firefly Music Festival in Dover, Del., two fast-growing festivals. In 2010, only 10 percent of AEG Live's bottom line came from festivals; now it's about a third, the company says."
Festivals are big. Beacon Economics reports that 48 of the events promoted by Insomniac (Electric Daisy Carnival, Audiotistic, Beyond Wonderland, Electric Forest) generated $3.2 billion in U.S. economic activity between 2010 and 2014—including $180 million in taxes, and the equivalent of 25,000 full-time jobs.
How arenas adapt and evolve in the current concert environment is one of the big conversations happening at IAVM's Arena Management Conference. There are challenges (always), but there are also opportunities that can be informed and shaped by the interest and economics currently driving the festival scene. Discovering the opportunities, identifying solutions, and finding the next steps forward is why we come together.
And, like any great show—be it in an arena or a cornfield—it's impossible to explain to someone who wasn't there.
Arena Management Conference
September 20-22, 2015
Hilton at the Ballpark, St. Louis, MO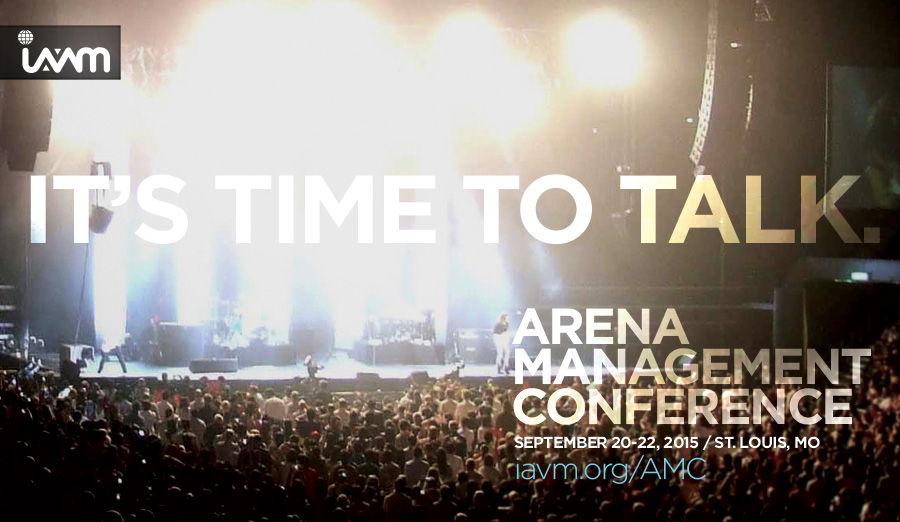 Photo: Imran Chaudhry / Flickr