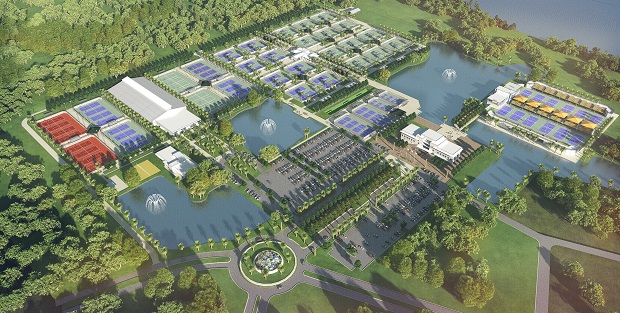 The U.S. Tennis Association (USTA) broke ground last week on a $60 million facility in Lake Nona, Florida. The USTA National Campus will reside on 63 acres and be home to sports-related businesses and organizations.
"Plans call for a tournament and league area with 24 clay courts and 16 hard courts; a University of Central Florida tennis area with 12 hard courts, elevated seating and facilities for 1,200 spectators; a Team USA area with eight hard courts and eight clay courts; and a player-development area with eight hard courts, eight red-clay courts and six covered courts," Mary Shanklin reported for the Orlando Sentinel. "The space includes dormitories for 32 youth players and an area with eight courts that are shorter than regulation."
The USTA will move its entire workforce to the new headquarters in Lake Nona.
"This new home for American tennis will truly be a game-changer for our sport," said USTA Chairman of the Board and President Dave Haggerty in a statement. "This world-class facility will be an inclusive gathering place for American tennis and will allow us to impact our sport at every level, from the grassroots to the professional ranks."
The facility is expected in fall 2016.