(First posted as a Walton Arts Center blog)
Mark Herrera, IAVM director of education, and Paul Villotti, director of life safety for Henderson Engineers, came to Northwest Arkansas to lead Trained Crowd Management Phase 2 classes for staff at each of its venues, Walton Arts Center and the Walmart AMP. In addition, the event drew representatives from local churches, police, fire, schools, sports venues, theaters, museums, clubs, restaurants, community arts organizations, and event organizers
Walton Arts Center has more than 100 employees and contract security staff who have completed IAVM's Trained Crowd Manager Program and are certified. As an organization that can host hundreds of thousands of visitors during a season, it's important to have the staff at each venue trained and ready to handle any situation.
Herrera also led a three-hour Situational Awareness-Mindset training which gives venue operators the observational tools they need to be safer and more secure.
"We knew we wanted all of our staff to go through this situational awareness training, and we had the capacity to accommodate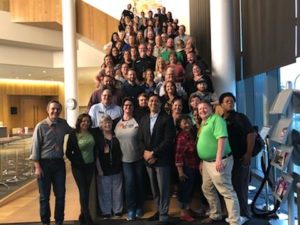 more people, so we opened the training to more than 40 community organizations, businesses and local law enforcement," said Nick Zazal, director of events and patron services at Walton Arts Center.
Community members were invited to participate in the training free of charge.
"We appreciated WAC taking initiative to share this experience with the arts and venue community," said Kathleen Trotter, executive director of the Arts Center of the Ozarks. "It was informative and certainly something we all need to address to keep our communities safe."
Herrera's training emphasizes risk mitigation through customer service, active shooter preparedness, media relations during a crisis, all practices that are applicable to a wide variety of businesses and organizations.
"I thought it was a great experience," said Summer Fallen, airport services manager for the city of Fayetteville. "The speaker approached the subject from a realistic standpoint and made me question my personal plan of action, as well as the plan for my employees."
There was common feedback from participants that having the correct mind set is imperative to surviving emergency situations.
"I found it informative with the emphasis on 'mind set' and what your responsibilities are and what your actions should be," said Matt Partain with the Fayetteville Police Department. "I'm a firm believer in being prepared, and this training can put you on the path to being prepared. I'm asked many times what can I or we do to recognize a threat and I tell them attend training like this."