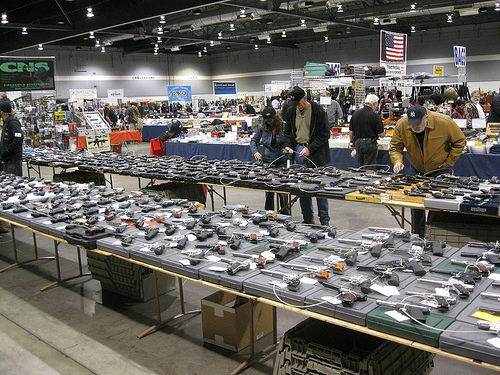 In 2005, Michael Bouchard, Assistant Director/Field Operations of ATF, estimated at that time nearly 5,000 gun shows were taking place each year in the United States.
In 2009, CNN reported that that Americans owned around 300 million non-military firearms.
This past May, Trade Show News Network (TSNN) reported that the National Rifle Association's Annual Meeting & Exhibit shattered previous attendance records, bringing in over 86,228 attendees. More than 550 exhibitors covered 400,000 square feet of exhibit hall space.
While it is certain venue managers are always excited see show traffic filling their booking sheets – the increase in gun shows, the uptick in gun ownership, and the addition of inexperienced gun owners, creates some real safety challenges for venues hosting gun shows inside their venues.
On Wednesday, October 2, from 3–4:30pm, IAVM will host a webinar discussing gun show safety – "Weapons on Display: Gun Safety Requirements for Exhibitors and Patrons." The webinar will gathers industry's experts to discuss what venues need to understand before hosting a firearms event.
Whether your venue hosts gun shows or wholesale sports equipment shows, the presence of weapons and ammunition in your building adds to your liability as the building operator. The panel will include faculty members of IAVM's Academy for Venue Safety and Security (AVSS) as well as building executives like Orlando Castellano, GM at the War Memorial Auditorium. They'll discuss best practices around the industry for managing the risks of hosting gun shows and an increase in media scrutiny over gun shows and gun safety.
We spoke to Kevin Mattingly, Deputy Director at the Phoenix Convention Center & Venues and the webinar moderator about what webinar participants can expect.
Who needs to join this webinar?
Venue managers, event managers, sales managers and security manager who presently host or are seeking new business hosting a variety of shows where firearms are displayed or available for sale.
Which experts will you be talking with?
The panel members are all convention center managers who have years of experience hosting gun shows.
What topics will you cover?
We will talk about risk assessment and countermeasures and explore current practices for weapon inspection and security for both exhibitors and attendees. We will try and discover some best practices by focusing on risk and remedies.
There are already rules for every event. How do the convention center's or venue's rules layer into the gun show organizer's rules?
In our research we found widely varying rules for gun shows. We also found that some risks had not been explored at all. We hope to shine a light on these.
If your venue will be hosting a gun show this webinar is for you. Register today.
If you're planning on attending IAVM's International Convention Center Conference (ICCC) Oct. 3-5 in Charlotte, NC. you can hear more discussions about gun shows during the conference's Morning Coffee Talk Sessions.
Image: car.press via photopin cc