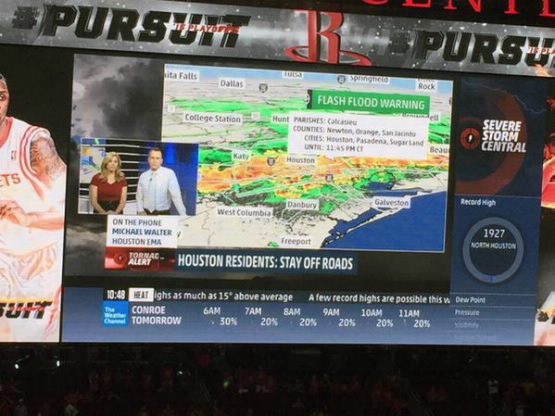 "If you want to see the sunshine, you have to weather the storm."
– Frank Lane
With more experience in the world of sports rather than meteorology, Frank Lane perfectly summed up what all venue managers need to keep in mind regarding severe weather. There are many different potential threats from the sky we all could face throughout the calendar year, but preparation will yield positive outcomes during some of the most challenging situations. Let's start by reviewing some of the severe weather situations to be aware of and opportunities to better prepare venue staff and guests when these conditions present themselves.
As I type this piece for the IAVM Stadium Committee blog, the state of Arizona will experience the remnants of two hurricanes in a period of 10 days. June is normally the driest month of a year for an area that knows something about dry conditions. Before Hurricane Andres, there had been no measurable rain recorded in Phoenix on June 5 since record keeping started over 100 years ago. Bottom line, just when you think it can't happen, Mother Nature has a strange way of reminding us that, yes, it can happen.
There is evidence and forecasts of a calmer weather cycle in the near term. According to National Oceanic and Atmospheric Administration's (NOAA) Climate Prediction Center, the Atlantic Basin, including the Gulf of Mexico and the Caribbean Sea, has a 70 percent chance of a below-normal hurricane season. NOAA predicts a likely development of El Nino during the summer or early fall and a 70 percent chance of six-to-11 named storms, which includes Tropical Storm Ana that formed in May. This comes on the heels of a similar, below-average Atlantic hurricane season that produced only eight named storms in 2014, the fewest since the 1997 Atlantic hurricane season. Conversely, the Eastern Pacific has a 70 percent chance of an above-normal season according to NOAA, with 15-to-22 named storms, of which seven-to-12 are expected to become hurricane strength.
Damage reports from tornadoes are much more likely to be seen on TV or the Internet. While the average number of tornadoes has been lower than normal, the threat remains. There were 888 tornadoes confirmed in the U.S. in 2014, of which 47 fatalities resulted. There were at least 903 tornadoes confirmed in the U.S. in 2013, accounting for 55 fatalities. So far this year, 716 tornadoes were reported according to the Storm Prediction Center (SPC), of which at least 343 have been confirmed. While the number of deaths so far is only nine, it has been a particularly tragic first six months in China with over 100 deaths from tornadoes.
The strongest tornadoes this year were part of a two-day severe weather episode traveling across parts of the Great Plains and Midwestern United States. The most significant event of the outbreak was a violent, long-tracked, very high-end EF4 wedge tornado that moved along a 30.2 mile-long path across several counties in northern Illinois, killing two people and injuring another 22. Winds in this area were estimated to have reached 200 MPH, the very upper limit of the EF4 range. Overall, this relatively small outbreak produced 22 tornadoes, of varying intensity and duration, across populated portions of the country.
Preceded by more than a week of heavy rain, a slow-moving storm system dropped tremendous precipitation across much of Texas and Oklahoma during the nights of May 24–26, 2015, triggering record-breaking floods. Additionally, many areas reported tornado activity and lightning. Particularly hard hit were areas along the Blanco River in Hays County, Texas, where entire blocks of homes were leveled. On the morning of May 26, the National Weather Service issued a flash flood emergency for southwest Harris County (which includes the city of Houston) and northeast Fort Bend County. The system also produced deadly tornadoes in parts of Mexico and Texas. A total of 31 deaths are connected to this weather event, with 27 occurring in Texas.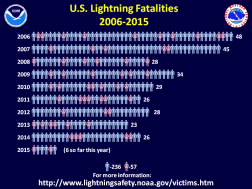 Finally, lightning is a very real danger that needs to be considered during event days. There have been six documented lightning deaths in the U.S. this year, occurring in five different states.  According to statistics recorded by NOAA, during the 10-year period of 2004-2013 a total of 33 people were killed and 234 were injured by lightning strikes annually. On average, lightning strikes are fatal to about 10 percent of people who are struck. And while the vast majority survives, they often suffer from an array of long-term, often debilitating symptoms.
Regardless if you are golfing, at a youth sports practice, or overseeing an event at your venue, no place outside is safe when thunderstorms are in the area. If you hear thunder, lightning is close enough to strike you. Immediately move those you are responsible for (including yourself!) to safe shelter, a substantial building, or inside an enclosed metal-topped vehicle.
The forecasting of severe weather has shown amazing advances in the past 10 years. Following are some topic points to keep in mind for your venue:
National Weather Service (NWS) Forecasts – Unless your stadium is hosting a National Special Security Event as deemed by the Department of Homeland Security, your local NWS will not (and cannot) provide specialized, site-specific forecasts or direct forecasting support to a venue manager. Conversely, NWS personnel are required to inform a designated public safety official when weather conditions may threaten life or property. The role in which NWS products and forecasts are utilized during events should be defined well in advance.
Communication of severe weather information – How many of our guests and employees simply tune out these warnings anymore? Past results show that threeout of every four times the NWS issues a formal tornado warning there is no evidence of one actually touching down. Thus the effectiveness of tornado warnings have reduced over the years, so much so that a test program by the NWS will feature new and more graphic descriptions of the potential damage and risks that people are likely to confront. The language used in a venue's public safely announcements should balance the information people need to know with the call to action to seek a safe location immediately.
There was no better example of informing guests of severe weather than after a NBA playoff game in Houston. With a strong line of thunderstorms pushing through the area, venue management displayed weather information on the main videoboards and encouraged guests to stay inside the facility.
Have a Weather Watcher (with a clearly defined role) – Within your event command center or 24-hour security office, the monitoring of current weather is critical. Free weather websites and smartphone apps can provide an enormous amount of data in real-time. However, no venue staff member should be asked to interpret a local radar image or try to predict the path of severe weather. Venue managers need to determine if it's prudent to employ a private meteorology company to provide this expert analysis to base life safety decisions upon.
Earlier this year, IAVM's Academy for Venue Safety & Security (AVSS) offered a specialized course in Severe Weather Preparedness. The course will be offered again in 2016. The IAVM AVSS Severe Weather Planning Guide is an excellent resource to use when reviewing a venue's emergency preparation and response plan. The importance of this plan cannot be overstated – it is a fundamental responsibility for all venue managers.
Weather preparedness needs to be a priority. The potential occurrence and damage from the skies outweighs most all of the other scenarios we train for. Take the time during the next sunny day to plan for what to do when the dark storm clouds appear on the horizon.