By Paul Pettas
Centerplate, a Sodexo company and the leading hospitality partner to North America's premier entertainment venues and convention centers, announced Sufi Karaien as the new Executive Chef for the San Diego Convention Center (SDCC), beginning this month. Karaien previously served as SDCC's Senior Executive Sous Chef under Executive Chef Daryl O'Donnell.
"This is a dream role for me. I love our team, our city and the events we execute for our loyal clientele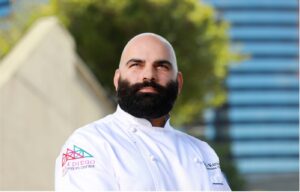 here in San Diego. I'm thrilled to have the opportunity to step into this leadership position and continue to develop new and creative approaches to catered experiences that truly reflect the thriving local culinary scene," Karaien said.
Since joining Centerplate in 2017, Karaien has helped lead food and beverage service for countless receptions, festivals, plated dinners and community events. Catering multi-course meals for tens of thousands of guests requires a special blend of culinary and managerial skills, and Chef Sufi ensures a careful attention to detail every step of the way.
"Sufi has built a strong rapport with our employees, partners and clientele through his excellent work ethic, attention to detail, and commitment to supporting extraordinary events," said Bobby Ramirez, Centerplate and Sodexo's General Manager. "His emphasis on ingredient sourcing and local flavors will continue to highlight the best of the San Diego region and promote sustainability—building on the successful foundation that Chef Daryl established here."
Daryl O'Donnell, also known as "Chef D," worked at Centerplate for 22 years, serving as Executive Chef since 2013. He moved to Tennessee this month to reside closer to his family.
"I have been proud to be a San Diegan and represent the San Diego Convention Center for more than two decades. I'll miss the sushi, tacos, the views of the Pacific Ocean and our longtime client partners," O'Donnell said. "After supporting hundreds of meetings and conventions, and then serving the emergency shelters in our building during the pandemic, I leave with great pride for the levels of service, teamwork and community spirit we established here."
During the COVID-19 pandemic, Centerplate has operated two kitchen teams within SDCC, one led by Karaien and the other led by O'Donnell. They maintained a strict separation between the teams to minimize potential exposure and ensure continuity of operations. With careful protocols, Centerplate served more than one million meals for Operation Shelter to Home and several thousand meals per day for a federal emergency intake site for unaccompanied children (operating in the building until July 15). Together with SDCC leadership, Centerplate is preparing to safely welcome meetings and conventions back to the San Diego Convention Center on August 1.
"Chef Sufi and Chef D are the best in the business," said Rip Rippetoe, CVE, SDCC President and CEO. "We're thankful to have Sufi's talent and experience already on this team, which assures a smooth transition for all our clients and adds to the excitement for the return of conventions to San Diego this year."
Paul Pettas is Communications Director for Centerplate.