Super Bowl L Will be Smartest Stadium in NFL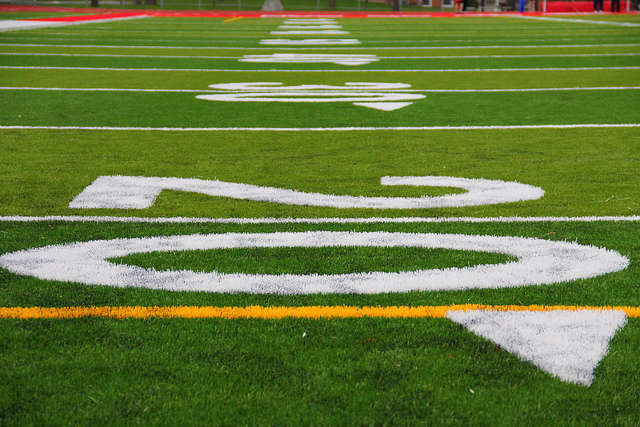 –The Examiner
Goodbye, cold, grungy Candlestick Park. Hello, high-tech, shiny new Levi's Stadium.
Fifty-four years after $32 million Candlestick Park opened, the 49ers are building a $1.2 billion showcase of a stadium that is almost twice as big, wired to the hilt and opening its doors just in time to host Super Bowl L in the heart of the Silicon Valley.
Arriving just five years after the debut of Cowboys Stadium, Jerry Jones' $1 billion showcase for his club, the 49ers are aiming to redefine state of the art, as team officials made clear on a recent tour.
See also: Levi's Stadium in Santa Clara to Host Super Bowl L
What Is Augmented Reality Technology? What Can It Offer the Event Industry?
–Trade Show News Network
You have likely heard the buzz around Google's Glass lately, but Google is not the only company diving into the augmented reality arena. Augmented reality technology is the integration of computer generated data and images with real-world video and information in real –time.
One of the simplest and earliest uses of augmented reality was the use of the yellow first-down line in NFL televised games. Since this many industries have implemented augmented reality technology to enhance their customer experiences.
Madison Square Garden Could Get the Boot in 15 Years After City Planning Commission Refuses to Grant a Lease 'in perpetuity' to Iconic Midtown Arena
–New York Daily News
The world's biggest stage may have to move in 15 years.
The city opted to renew Madison Square Garden's lease for a mere 15 years Wednesday, signaling that the iconic arena is not a permanent fixture in midtown Manhattan.
"The best possible outcome would be a relocated Madison Square Garden," said city Planning Commission chairwoman Amanda Burden.
Video Boards, Scoreboards and the Arena Experience
–Populous
Arena facilities, because of their multi-functional nature, have always pushed the envelope of innovation with regards to technology.  It is essential that they provide integrated solutions to accommodate sporting events, concerts, and family experiences, all while exceeding the expectations of modern spectators.
Fort Worth to Look at Future of Convention Center Arena
–Dallas Business Journal
The top two convention and visitor leaders in Fort Worth soon will begin looking for a consulting firm that will help them figure out how to add more meeting space to the city's convention center and conduct a market analysis of the city's hotel needs.
How to Plan for Sustainable Catering
–Meetings and Conventions
Meetings around the globe are becoming more environmentally friendly, as is the food that fuels them. While green catering is an extremely promising and rapidly expanding area, it's also rife with misconceptions to be aware of and work around.
What can you do to feed your attendees more sustainably without falling into some of the most common pitfalls? Here are a few tips.
Curtis Granderson to Pay for Most of New UIC Baseball Stadium
–CBS Sports
Yankees center fielder Curtis Granderson was drafted in 2002 out of the University of Illinois at Chicago. And he's now significantly giving back.
The Associated Press reported Wednesday that University of Illinois trustees agreed to a deal in which Granderson would fund $5 million of the projected $7 million cost of building a new stadium for the school's baseball team.
Cash 'N Carry: Thieves Heist ATM From Henry B. Gonzalez Convention Center
–IAVM
Woe unto the Automated Teller Machine. If these tried-and-true cash dispensers affectionately known as ATMs could ever have a voice, surely they would seek assault damages from thieves who try and steal them for being kicked, punched, tied up, dragged, shoved, tossed and yes, even cursed at.
Most of these thefts take place where machines are either outside or just inside the door of an establishment, which makes the case of the stolen ATM from the Henry B. Gonzalez Convention Center in San Antonio, Texas, even more remarkable in that the machine was pilfered from the second floor of the venue.
Qatar Hires Managers for First World Cup Stadium
–Reuters
Regional project management and consulting firm KEO International has been appointed project manager and Los Angeles-based Aecom Technology Corp was named as design consultant for the al-Wakrah Stadium, the Qatar 2022 Supreme Committee said in a statement.

Stephens Asks for State Money for Convention Center
–Daily Herald
Rosemont Mayor Bradley Stephens Tuesday asked the state for $210 million in state taxes over 30 years to renovate the Donald E. Stephens Convention Center.
Stephens told an Illinois House committee that the money would be made up by taxes generated from a new Rosemont fashion outlet mall that is set to generate $23 million for the state every year.