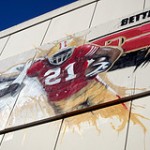 The ink had barely dried on the press release announcement that the naming rights to the new stadium in Santa Clara, California, that will become the home of the San Francisco 49ers beginning in 2014 were awarded to apparel company Levi Strauss than the National Football League quickly piggy-backed with its announcement that the stadium would host Super Bowl L (or 50, for those more into numerals than the Greek alphabet) on February 7, 2016. Build it and they will come, indeed!
Santa Clara Chamber of Commerce and Convention-Visitors Bureau President & CEO Steve Van Dorn remarked that, "There is no better place than this brand new stadium to host the NFL's historic Super Bowl L. Attendees are really going to enjoy the California sunshine and beautiful San Francisco Bay Area region. We expect a huge surge in hotel occupancy for the entire region for the week the Super Bowl is here. Overall, the economic impact will be in the millions." 
"We are so excited to be able to be able to put on the 'Golden Super Bowl' in the Golden State"
Making its first return to the Bay Area since Stanford Stadium hosted Super Bowl XIX in 1985, Santa Clara earned the nod over Miami's Sun Life Stadium. Located an hour south of San Francisco in the center of Silicon Valley, the $1.2 billion, 68,500-seat Levi's Stadium has the ability to expand its number of seats for the Super Bowl. The stadium features 100,000 sq. ft. of event space, wide plazas, and 165 luxury suites with stadium-wide WiFi capability, mobile connectivity, IPTV, and colossal HD video boards measuring over 13,000 square feet. 
"We are so excited to be able to be able to put on the 'Golden Super Bowl' in the Golden State," added 49ers CEO Jed York.
As far as that naming rights deal, Levi Strauss will pay $220.3 million to the city of Santa Clara and the 49ers over 20 years to help pay for the $1.2 billion stadium, and the company has the option of extending the deal for another five years for an additional $75 million or so. The total contract, which averages out to about $11 million per year in the first two decades, becomes the fourth highest in NFL history and is more than the naming-rights deals scored by the San Francisco Giants, Oakland Raiders, Oakland Athletics, Golden State Warriors and San Jose Sharks — combined.
"You can't find a better name for the stadium than 'Levi's' — it really was the perfect fit," said a giddy York, clearly on a roll. "This is one of the top deals (in the NFL); you're right there in the top echelon."