VenueNet is the online forum where IAVM members can ask questions, give input, post stories, learn about upcoming events, discuss industry changes, prepare for potential threats, and so much more. This exclusive member benefit is a great way to communicate with your peers from every sector in the industry.
Logging In
Every active member has access to VenueNet; all you have to do is click here, and use your email and password to login. If you have never set up a VenueNet account, or if you've forgotten your password, just email Lori Wehmer and she will gladly set up your account.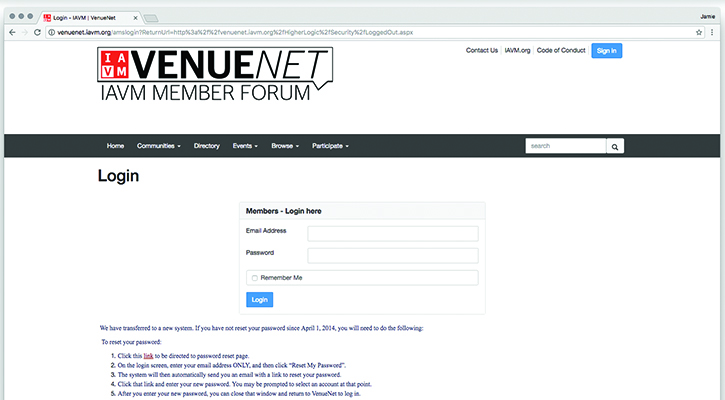 After you create your account, it's helpful to other users if you set up your profile. Here you have the option to add a bio, your education, your job history, other associations, honors and awards, certifications, social links, interests, venue type and size, your department/focus, and a profile photo.
Side note: None of the links following this point will work unless you have already logged into VenueNet. If you would like to explore this member benefit further, please login now. If you do not have a password yet, make sure you bookmark this post for future reference.
Home Page
Once you've logged in, you'll see a menu with the following options: Home, Communities, Directory, Events, Browse, and Participate.
The home page shows the latest discussions, recently shared files, announcements, news, recent blogs, and the @IAVMHQ Twitter feed.
Communities
Now you'll want to start joining communities that pertain to your interests. Click on the Communities tab and select All Communities (My Communities will be relevant once you've joined a few).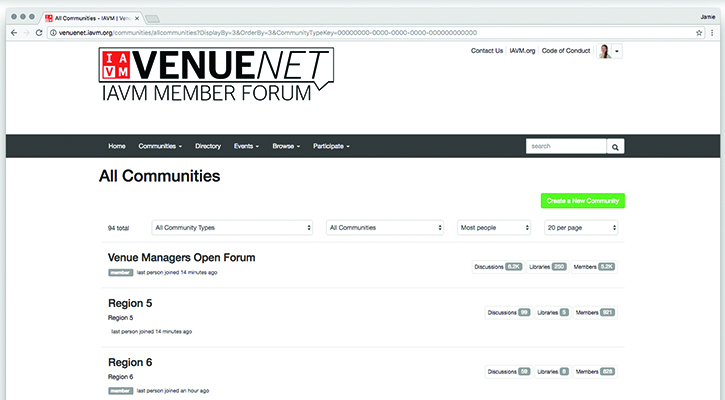 Here you'll see broad options like sectors or Safety and Security, and also narrow options like Back of House or Women in Leadership. Communities with a join button are open groups, but some communities require an invitation. However, everyone automatically has access to the Venue Managers Open Forum, which is the largest group, posting more than 6,200 discussions so far. Don't be overwhelmed though – the search bar makes finding what you're looking for a breeze.
Directory
Speaking of searching, the Directory is another exclusive member benefit that may prove to be very useful to you.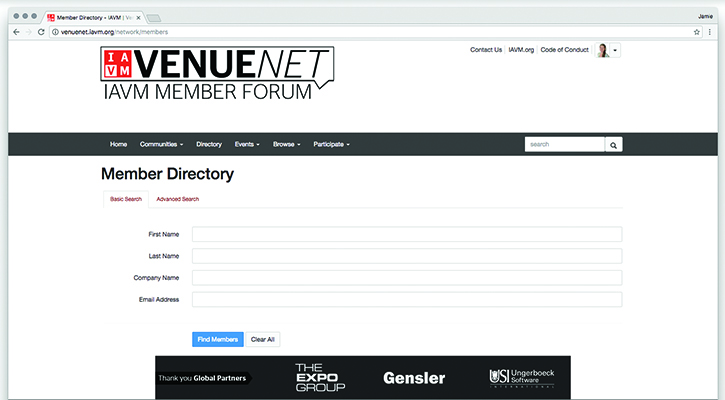 Let's pretend you met somebody named Mark at VenueConnect. You remember where Mark was from, but you can't seem to remember his last name. So, you click on the Directory tab, search "Mark" and sift through all of the 72 Mark's that are currently active in our association. Who knows, you might even get lucky and he'll have uploaded a profile picture!
Events
Clicking on the Events tab will take you directly to the IAVM Event Calendar hosted on the IAVM website.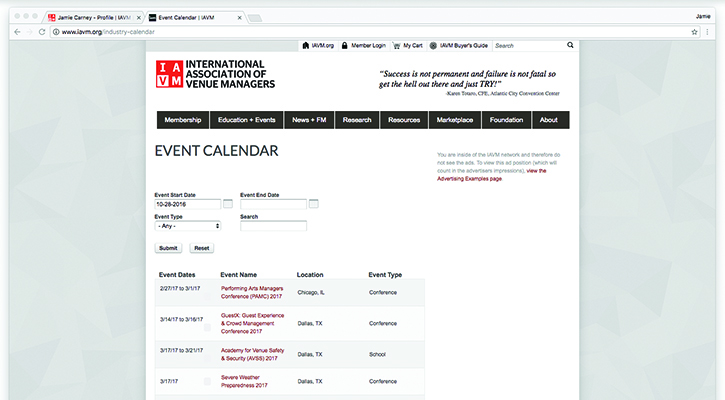 You can use this section to always stay on top of the latest and greatest industry events.
Browse
The Browse tab lets you view those items that displayed snippets on the home page: Discussion Posts, Library Entries, and Blogs.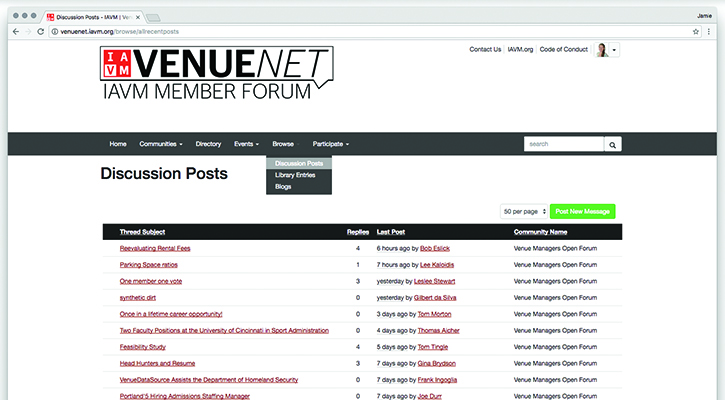 This section is useful to see what the most recent posts are about, as well as members currently trending blog posts.
Participate
And, finally, the Participate tab makes it easy to quickly and efficiently share your thoughts, documents, and other ideas without searching for a particular place to post them.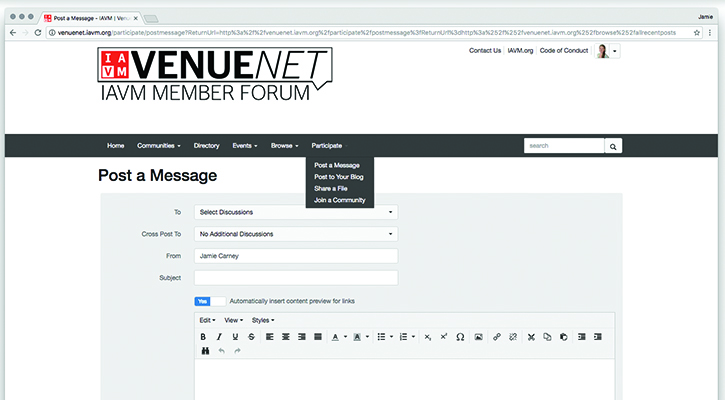 You can Post a Message, Post to Your Blog, Share a File, or Join a Community.
Additional Tips
The forum can send you daily or real-time emails about new posts in your communities, giving you a quick glimpse at what's going on. To adjust these settings, once you go to your profile, you can click on My Account and Community Notifications. You can also add a signature (like with emails) to all of your posts by clicking on My Account and Discussion Signature.
Also, don't forget to download the IAVM VenueNet App to get industry information anytime, anyplace.
If you have a question about VenueNet, about venue management, or just about life, shoot us an email or give us a call (972-906-7441) and we will find you an answer. We're inspiring leaders, building expertise, and creating connections for life.