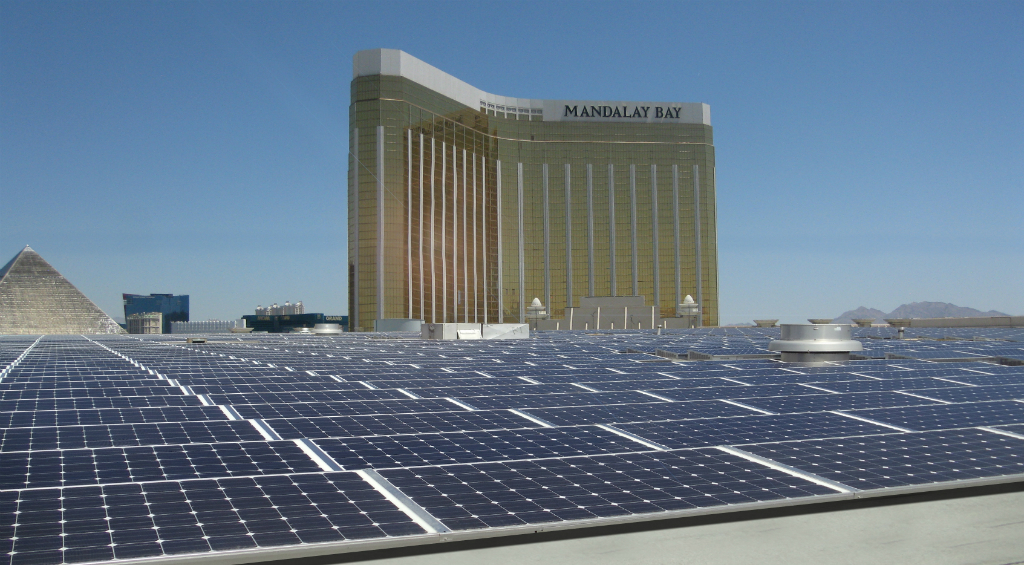 MGM Resorts is committed to sustainability, and its new 6.4 megawatt photovoltaic array covers approximately 20 acres on top of the Mandalay Bay Resort and Casino. That makes it the world's largest rooftop solar array on a convention center. But the company isn't stopping there. It plans to install an additional two megawatt photovoltaic array on top of a future expansion of the Mandalay Bay Convention Center.
"Today [October 23] marks a major milestone for MGM Resorts, NRG, and the entire Las Vegas community," said Jim Murren, chairman and CEO of MGM Resorts International. "The completion of this solar array demonstrates our steadfast commitment to the principles of environmental responsibility, and the announcement of the second array reinforces that we're always looking to do more."
NRG Energy installed the array, and once the whole project is completed, it is estimated that it will displace approximately 6,300 metric tons of carbon dioxide.
"The rooftop solar installation at Mandalay Bay significantly advances our resort's commitment to being a leading sustainable destination for conferences and conventions," said Chuck Bowling, president and COO of Mandalay Bay. "Partnering with a progressive company like NRG to achieve this milestone reinforces our commitment to promoting renewable energy and protecting the planet's limited resources as supported by our Green Advantage sustainability initiative that has already decreased our energy load by over 14 percent since 2007."
Mandalay Bay isn't the only venue to install solar arrays. Last month, the Anaheim Convention Center completed a 2.4-megawatt install solar panel system, covering 300,000 square feet on its rooftop, "making it the largest city-owned, convention center, roof-mounted system in North America." Also, Amsterdam ArenA is installing 4,200 solar panels on its rooftop, and a soccer field's lights in Brazil are powered by players' footsteps.
Additionally, the Orange County Convention Center (OCCC) in Orlando, Florida, installed solar panels in 2009, which help offset 10 percent of its electric bill. The center was awarded a Leadership in Energy & Environmental Design (LEED) for Existing Buildings: Operations & Maintenance Gold (EBOM) certification from The Green Building Certification Institute, an arm of the U.S. Green Building Council, last year.
"We take the approach that sustainability is more than energy efficiency; it's actually a cultural shift toward environmental responsibility and leadership." said Jan Addison, CFE, OCCC deputy general manager, in a press release.
(Image: NRG Energy)