Paul Abe, a long-time IAVM member until his retirement in 2007, passed away on February 6 at the age of 77 while on a visit with his wife, Diane, to visit their granddaughter at college in Virginia when he suffered a heart attack in the couple's hotel room.
"Paul had a passion for the venue management business and his commitment to living life to the fullest," Diane said. "He was a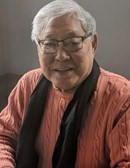 kind and honorable man who is missed dearly. Needless to say, I was and will forever be devastated."
Paul was born in Sacramento, CA on July 20th, 1941 and lived in Tempe, AZ. Paul was preceded in death by his brother Alan, father Hershel, mother Gladys, beloved dog Cassie and cats Jetta and Prini. He leaves behind his wife of 17 years, Diane; daughter Stacie Robles and husband Juan; daughter Tania Cuellar and husband Mark; granddaughters Kaila and Isabella Cuellar; beloved sister-in-law Kathy Abe; nephew Brian Abe and wife Cheryl and great nephews Chase and Austin; nephew Kevin Abe and wife Yuko and great nieces Maia and Emika; sister-in-law Linda Heppe; mother-in-laws Deja Heppe and Pat Wolf; and his fur children Kiki, and the "kittens" Zoe and Cali.
Paul, a Japanese American, spent the first few years of his life in the Jerome Relocation Center during World War II. The family was sponsored out and relocated to Pueblo and then moved to Sterling, CO where he spent his adolescent years. He earned his Bachelor's in Theatre from the University of Northern Colorado, Greeley and a Masters in Technical Theatre from Purdue University, Lafayette. Upon earning his Masters, Paul was a faculty member at various colleges teaching lighting design and technical theatre but found his true calling and passion directing the opening and renovations of convention centers, performing arts theatres, and arenas. Some of the many buildings he managed included the Farmington Civic Center in New Mexico, Lima Civic and Convention Center in Ohio, and the OnCenter in Syracuse, New York.
He desired to relocate to the warm southwest sun and moved to Albuquerque, NM in 1995 where he met the love of his life and soulmate, Diane while working together at Popejoy Hall. They later settled in Tempe and were married on the beautiful island of Maui, HI in 2001 and shared a wonderful life together with their fur children. After retiring from ASU Gammage, he was able to fully enjoy his hobbies which included becoming a certified HAM radio operator, off-roading in his Jeep Wrangler (JJ), golfing, cooking and hosting many gatherings. He and Diane enjoyed spending time at their cabin in Payson, AZ also known as their little piece of paradise. They enjoyed traveling the world and filled up their passports by visiting Costa Rica, Cuba, United Kingdom, Ireland, Japan, Canada, and also traveled throughout the USA including Hawaii and Alaska. Their greatest highlight every year was "Camp Grandma and Grandpa" where their granddaughters would visit from Texas for a fun filled week of adventure.
Paul was a quick witted, honorable man with a lovely spirit who cherished his wife and family. He will be dearly missed by all who were blessed to know him.
Donations may be made to the Arizona Humane Society at www.azhumane.org.