Following its best-ever year of business, Populous has appointed more than a dozen staff members to Principal and Senior Principal status and added Senior Principal Bruce Miller to its global Holdings Board. An accomplished leader of Populous, Miller has led numerous successful baseball and professional soccer projects since joining the firm in 1989, including Target Field and Orlando City Stadium.
Miller is often cited as an expert source on stadium design for media including Sports Business Journal, Urban Land Magazine, National Public Radio, Design Intelligence, The Business of Sports, and Athletic Business. He has been guest lecturer at NYU and has spoken to industry leaders at the Freitas Seminar during the Winter Baseball Meetings. He was named a Sports Business Journal 40 Under 40 winner in 2003.
Promotions to Senior Principal:
Bob Gillcrist, Kansas City
Shireen Hamdan, London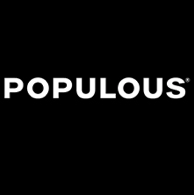 Jonathan Mallie, New York
Brian Mirakian, Kansas City
Sherri Privitera, Kansas City
Promotions to Principal:
Brad Albers, Kansas City
Marc Bertolino, Kansas City
Steve Boyd, Kansas City
Steve Caudle, Kansas City
Tiric Chang, Beijing
Rhys Courtney, London
Jeanette Johnson, Denver
Marc Klein, Denver
Whitney Williams, Kansas City
"It is an exciting time for Populous – we are very much looking forward to the future. The promotion of these gifted individuals around the world signals a bright future for us," said Earl Santee, Managing Director of Populous Americas.
Populous experienced a 15 percent increase in staffing for 2017, and expects to grow by another 15 percent through 2018.