Scott Cruickshank is the new general manager of visitor venues for Metro Zoo, Convention Center, Expo and Portland'5. He replaces Teri Dresler, who retired last year. Cruickshank, currently serving as interim general manager, will begin his new role immediately.
"Each of Metro's venues has key projects that Metro needs to tackle during the next few years," said Martha Bennett, Metro's chief operating officer. "Scott is the right person to lead us. From the Convention Center Hotel Project to expanding the success of our First Opportunity Target Area to increasing our contracting with minority owned and small businesses, Scott has the commitment, leadership and vision to help us succeed. Having Scott in the general manager position is a huge win for greater Portland."
Cruickshank joined Metro in 2012 as executive director of the Oregon Convention Center. Prior to joining the Convention Center, Cruickshank worked for the Grand Heritage Hotel Group where he oversaw the Governor Hotel and Avalon Hotel and Spa in Portland.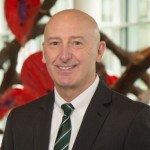 "My time at the Convention Center taught me Metro has a lot to offer our community," Cruickshank said. "I am excited to help all of Metro's venues excel. We are experts at what we do: welcoming people and providing memorable experiences and opportunities for everyone."
Cruickshank previously served as director of Operations for Martin Hospitality, a management company overseeing properties in Cannon Beach, Ore., including the Stephanie Inn, Surfsand Resort, Wayfarer Restaurant and Lounge, and The Lumberyard Rotisserie and Grill. Prior to that, he was general manager of The Resort at the Mountain in Welches, Ore., and general manager of Stuart Anderson's Restaurants in various locations. Cruickshank holds a Bachelor of Science in Communications Management from the University of Portland and was certified by the American Hotel and Lodging Association.
Metro's four venues — Portland'5, the Oregon Convention Center, the Oregon Zoo and the Portland Expo Center – provide nearly 10,000 jobs and generated nearly a billion dollars in economic activity in Clackamas, Multnomah and Washington counties last fiscal year. That's an increase of more than 50 percent since 2012, and it means more jobs and more support for businesses around the Portland region.
"As stewards of these facilities, it is our responsibility to invest wisely to generate healthy returns for our community," said Metro Council President Tom Hughes. "Scott Cruickshank has a strong track record of doing this."
Completing the Hyatt Regency Portland, attracting more multiday conventions and tradeshows to the Oregon Convention Center, bringing more visitors to Portland'5 and the Expo Center with new offerings, and completing eight major capital projects at the Oregon Zoo are among Cruickshank's initial priorities.
Event tickets, hotel stays and restaurant meals are just part of the venues' financial picture. They also contribute to greater Portland's economy through employee salaries, capital investments and, in the Oregon Zoo's case, purchasing hundreds of tons of food.
"We are fortunate to have someone like Scott Cruickshank help our public venues create good jobs and great experiences for people who live in greater Portland and out of town visitors alike. Scott's leadership will help maintain our competitive advantage over other places and help build trust with people right here at home," Bennett said.