Section Row Seat, LLC has begun operations in Port Orange, Florida earlier this month.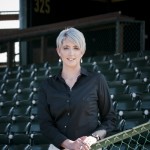 The start-up provides consultancy services in facility operations, vendor and security management, human resources, leadership and training, revenue management, customer communication, and facility planning. Section Row Seat specializes in the management of sport and entertainment venues.
Company founder Jean Ann Bowman is a 20-year industry veteran, having recently served as senior director of guest services for Daytona International Speedway, during the reopening of the $400M Daytona Rising renovation project.
"We aim to create a culture of guest services for organizations. By finding operational efficiencies, improving training, and better managing vendors, we help venues improve the guest experiences," Bowman said. "We know that venues can struggle to develop consistency and to unify the approach across departments. All the operations and services at venues must work to together to keep guests safe and to enhance guests' enjoyment of the event."
Section Row Seat welcomes clients from all sizes of venues. Project scopes may include the procurement of vendors, operational facility reviews, management of staff training programs, and review customer communication. The company website, www.Section-Row-Seat.com, provides detailed information about services and a downloadable company profile.