Zakiya Smith-Dore, MBA, CVP has been named Assistant Director of Operations for San Diego Theatres, the non-profit operators of the Historic Balboa Theatre (1,339 seats) and the San Diego Civic Theatre (2,967 seats).
In this role, Zakiya is responsible for overseeing Event Operations and Facility Services for both venues.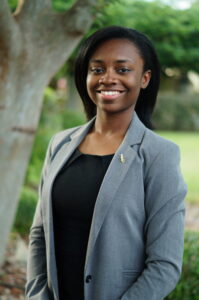 Zakiya will be a key player in San Diego Theatres reopening, contributing personnel management, organizational planning, and innovative service design.
Zakiya was previously with the University of Florida, where she got her start in venue management in 2013. Starting at the Stephen C. O'Connell Center (2013-2017), she was quickly promoted to Changeover Supervisor. She credits the O'Connell Center for helping her learn the ropes of all things venue management. While she was tapped to serve in operations, Zakiya was given opportunities to work in every area of the facility including the box office, technical department, and event staff division.
In 2017, Ms. Smith-Dore joined University of Florida Performing Arts as Event Operations Manager. In this role she oversaw all business operations (from venue marketing to contracting to closure completion) for their auxiliary venue, the Baughman Center. She also provided management support to the 1,700-seat performing arts hall, Phillips Center for the Performing Arts. She is grateful for the many learning experiences working at the University of Florida provided, including the opportunity to earn multiple degrees (most recently her Masters of Business Administration).